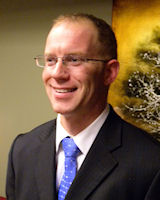 Patrick M. Sutton, Managing Attorney
The Sutton Law Firm, P.L.L.C. is a full service law firm serving the Twin Cities of Minneapolis/St Paul and the entire great state of Minnesota.
On September 9, 2009, Patrick opened his doors to his own law firm. Patrick began his practice out of his home office. Patrick's first case had him in Moorhead, MN defending a client in a 4th degree felony criminal destruction of property that went to trial that very November. By the time Patrick finished his opening statement, he was in love with the court. After his client was found not guilty, Patrick represented more clients in the area of criminal law. However, Patrick wanted to help clients in the field closer to a field closer to his recent experience in personal finance. Patrick began helping clients get out of financial distress. He started negotiating car loans, student loan payments and home mortgages for friends and family. Eventually, Patrick's negotiation skills graduated to helping clients acquire loan modifications on primary and secondary mortgages, obtain payment plans for default taxes and resolve credit card overages. Unfortunately, Patrick was not able to assist homeowners who were about to lose their homes, sometimes, in a matter of days.
Patrick embarked into foreclosure litigation defense in July 2010, when he represented a client requesting the court to grant a Temporary Restraining Order to prevent a big bank from foreclosing on his client's home. Patrick won that relief for his client. Since then, Patrick has many victories and remains undefeated in Hennepin and Ramsey counties when requesting the courts to grant a TRO.
As Patrick's law firm has grown, he began teaching law school and paralegal students what he has learned in the legal profession. It started as simply as one 3L from a local law school who showed up at his office requesting an internship. Since that day, Patrick's law firm has had interns from University of Minnesota School of Law, Hamline School of Law, St. Thomas School of Law, William and Mitchell School of Law, Globe University, University of Minnesota School of Business and North Hennepin Technical College. Patrick has a strong belief that law school and paralegal students need more real life experience if they are going to be successful in their respective fields. Patrick also teaches his interns about practical topics that they may not learn in the classroom like how to run your own solo practice, marketing, accounting, information technology and human resources. Patrick's interns have gone on to take positions at Gurstel and Chargo, P.A., Thomson Reuters, and Shapiro and Zielke, L.L.P. One intern even accepted an offer to a law firm in San Diego, California. The tools law school interns learn at the Sutton Law Firm they will use for the rest of their lives.
Integrity and reputation are terms Patrick's law firm has had to earn as a new attorney opening a busy practice in a very competitive professional field. Patrick Sutton believes in honest representation. Patrick's Law Firm is responsive to clients' needs and desired outcomes. While Patrick's firm cannot make any guarantees to a client's desired outcome, Patrick can guarantee that his representation of his client's will be aggressive and competent. The Sutton Law Firm also represents clients in matters of family law, tax law, criminal law and other areas of the legal profession.
Attorney
Patrick M. Sutton – licensed in state and federal courts. Patrick is an experienced attorney focused on legal matters that includes foreclosure, bankruptcy, family, tax, and criminal law.